Main Campus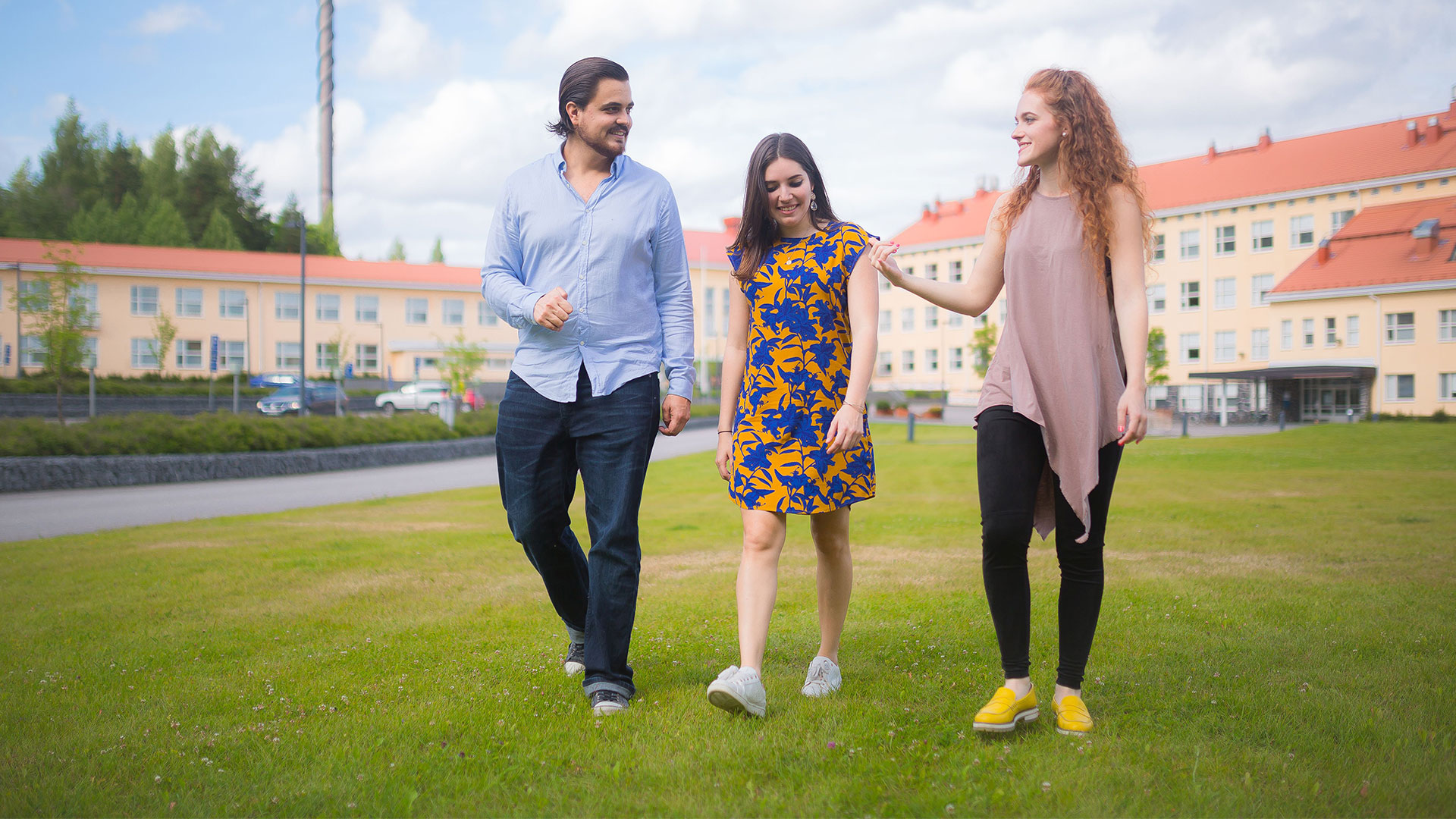 Main campus is the centre of our operation.
In Main Campus there´s Jamk administration and different services. There´s also School of Business and main of School of Technology on Main Campus. Professional Teacher Education is also in Main Campus from August 2023.
Main campus rooms
The premises of the university of applied sciences are barrier-free regarding mobility, excluding one classroom in the Main Campus (F413) because entrance is only via stairs. Main campus consists of multiple wings and floors. Entrance to floors is via stairs or lift.
You can download a map (pdf) about main campus rooms in every wing and floor.
In classroom booking Main campus rooms begins with R35
| Wing | Floor | Rooms | Doors |
| --- | --- | --- | --- |
| A wing |   |   |   |
|   | Basement | AK04 - AK13 |   |
|   | Ground flr | GamePit, AP03 - AP10 | A1 door |
|   | The 1st flr | Digi centre |   |
|   | The 2nd flr | A206 - A210 |   |
| B wing |   |   |   |
|   | Ground flr | BP05 - BP16 ExamStudio | A1 door |
|   | The 1st flr | Janitor, Student and International Services, B104 - B117 | D1 door |
|   | The 2nd flr | B203 - B230 |   |
|   | The 3rd flr | B303 - B330 |   |
| C wing |   |   |   |
|   | The 1st flr | C108 - C129c | C1 door |
|   | The 2nd flr | C204 - C227 |   |
| D wing |   |   |   |
|   | Basement | DK29 JAMKO´s gym |   |
|   | Ground flr | DP38 - DP75 |   |
|   | The 1st flr | Info, HelpDesk, restaurant, D110 - D149 | D1 door |
|   | The 2nd flr | D205 Tulikari auditorium, D207 gym, D208 - D220 |   |
|   | The 3rd flr | D303 - D306 |   |
| E wing |   |   |   |
|   | Basement | Toilet |   |
|   | Ground flr | EP02 - EP03 | F1 door |
|   | The 1st flr | E102 - E105 |   |
|   | The 2nd flr | E205 - E215 |   |
| F wing |   |   |   |
|   | Basement | FK14 - FK29 |   |
|   | Ground flr | FP05 Valjakka auditorium, library, JAMKO | F1 door |
|   | The 1st flr | F103 - F133 |   |
|   | The 2nd flr | F205 - F211 |   |
|   | The 3rd flr | F304 - F311 |   |
|   | The 4th flr | F405 - F413 |   |
| G wing |   |   |   |
|   | Ground flr | GP06 ExamStudio - GP15 | G1 door |
|   | The 1st flr | G104 - G111 |   |
|   | The 2nd flr | G201 - G208 |   |
|   | The 3rd flr | G301 - G318 |   |