Sport Business Research
Jamk's Sport Business team provides research and development services for private, public and third sector organizations operating in sport and experience industry. We also offer higher education degree programmes on sport business management in both undergraduate and master level, as well as open sport business studies for professionals already working in the field of sports.
Jamk's Sport Business intelligence services alter from event impact research to exploiting customer values, customer and business partner expectations and satisfaction to brand image and non- spectator surveys. Our Sport Business team believes that successful business performance development in sport organizations requires professional business management applied with business intelligence solutions where customers, fans, partners, sports brands, and organization's business competences are at focus. Research tools are designed to meet the growing need of online feedback from customers and business partners.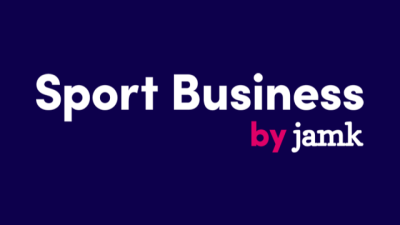 International partners
You'll find some examples of our international partner networks and projects below, such as EU funded Sustainable Sport Management -project.
Contact us
Yliopettaja, Principal Lecturer
Global Competence, Global Competence
Liiketoiminta, School of Business
+358505921143
firstname.lastname@jamk.fi
Tuntiopettaja, Lecturer
Global Competence, Global Competence
Liiketoiminta, School of Business
+358504786555
firstname.lastname@jamk.fi
Master's Degree
Master of Business Administration (MBA), Sport Business Management
Application period: 3.1.2024 - 17.1.2024
Study mode:
Part-time studies
Full-time studies
Education starts: 21.8.2023
School of Business
We create new experts in the field of Business Administration and Tourism and Hospitality Management through our Bachelor's and Master's Degree Programmes. We also offer solutions for SMEs and the public sector for improving competitiveness.