Facilities and Catering for Events
GamePit Pro
The Jyväskylä University of applied sciences has opened a GamePit Pro professional esports facility on Rajakatu campus, which can be rented for a variety of different occasions; for team practice, group meetings or a game night with a friend group.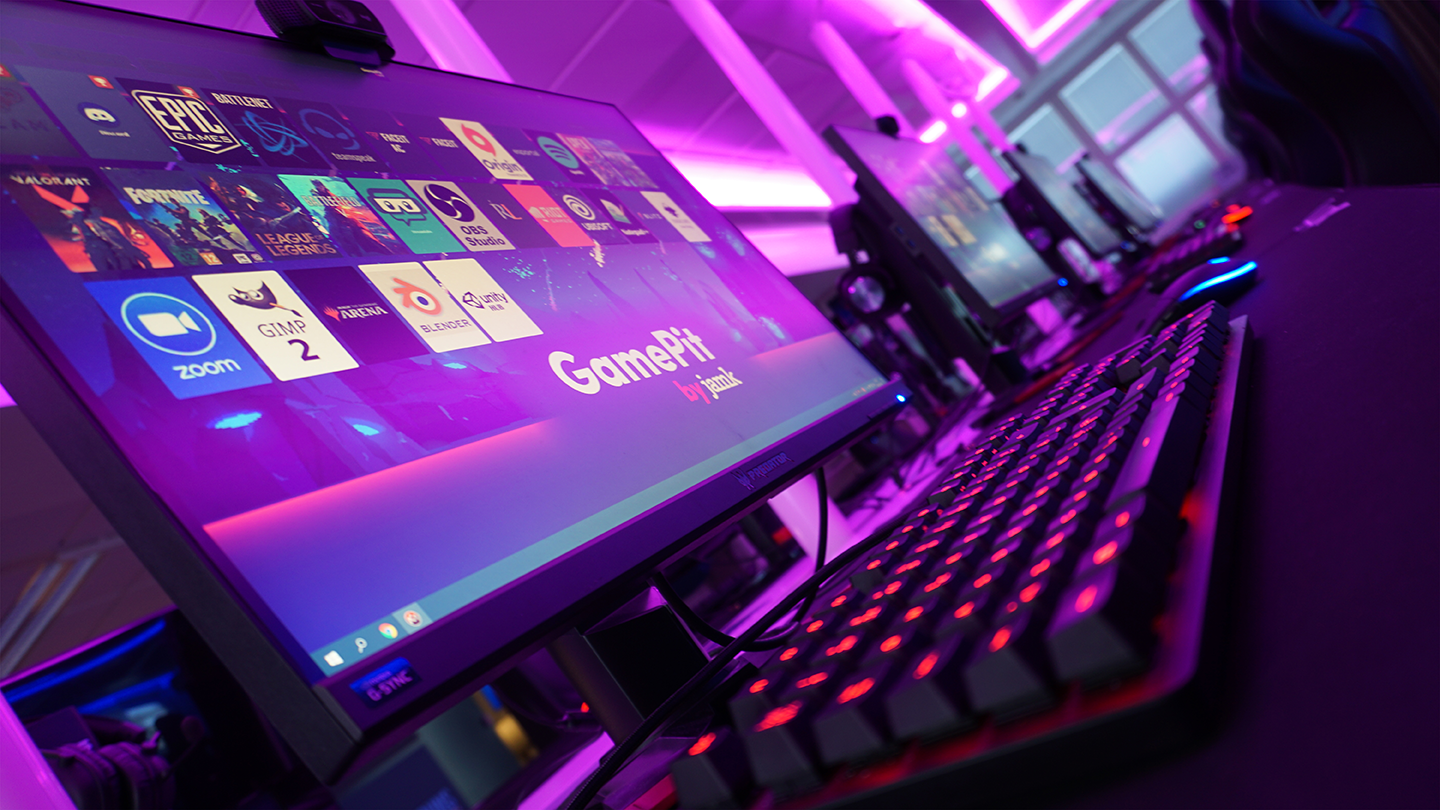 Groups (private and corporate)
Jamk Main Campus, A-wing (Rajakatu 35, 40200 Jyväskylä)
Top equipment and facility for esports
GamePit Pro has 12+6 gaming PC setups that allow you to play several different games with your own game accounts. If you don't have own game account, please let the person in charge know before your booking occurs or create needed accounts in advance.
In the facility you will find a large TV and a projector from which you can watch game recordings or even movies. Half of the meeting room is available as a lecture room and there is also a kitchen and shower on the next room of the facility. In addition to these, the facility features two PS4 consoles and two TVs.
In GamePit facility, you will primarily use your own game accounts. The internet connection speed is up to 10G, which means that if something you want is not found in the selection, you can download it yourself in no time. In addition, you can make a wish so that our staff can download the game for the next time!
Accommodation to 12 people - perfect bootcamp-facility
The facility has two bedrooms, each with two bunk beds. There are a total of 8 beds. In addition, 4 electrically filled mattresses make accommodation possible for 12 people. In the next room of the facility there is a basic kitchen except for the stove and oven; i.e. dishwasher, microwave, kettle, coffee maker, refrigerator. The customer brings their own bed linen and towels.
Separate entrance
Meeting room
Kitchen with dishwasher (no stove or oven)
Shower
Usage of the Jamko gym facility
Catering services on request
GamePit Pro reservation calendar
Please remember to check the booking status of the time you want from calendar - Already confirmed reservations are marked by day and the facility is not available for these times.
Rent prices (reformed June 2023)
The facility and equipment are rented as it is. Prices include VAT 24%. The facility is rented for a minimum of three hours. Specialist guidance is only available from Monday to Thursday. Please agree on the time of the guidance separately in connection with your facility reservation!
Also ask for an offer for catering services on your reservation. Breakfast, lunch and dinner options available, delivered directly to GamePit if wanted.
| | |
| --- | --- |
| 3 hour reservation | 130 € |
| Extra hours | 35 € |
| Full day (9am-12pm overnight sleeping not included) | 350 € |
| Full day (overnight sleeping included until 12pm next day) | 500 € |
| Full weekend overnight sleeping included (fri 9am – sun 10pm) | 900 € |
| Full weekend overnight sleeping not included (9am – 12pm) | 750 € |
| Extra reservation days on weekend reservations | 250 € / day |
| Overnight reservation cleaning fee | 100 € / reservation |
| GamePit birthdayparty | 160 € |
| Esports coach (between Mon-Thu) | 50 € / h |
GamePit reserves the right to change prices. Cancellations of reservations made less than 5 weekdays will be charged 50% of the price of the reservation.
Discounts
Student discount
All secondary and university students are entitled to the student discount
You will receive a 20% discount by showing your student card at the time of booking
The student discount can be combined with all normal priced facility bookings
Staff discount
Everyone who works at Jyväskylä University of Applied Sciences is entitled to the staff discount
you get a -20% discount by showing your JAMK staff card when booking the facility
discount can be combined with all standard priced facility reservations
Recurring reservations
The bonus system for bookings is in use in our GamePits!
When you make 3 reservations during the year, you get one reservation for free
The free reservation must be made within 6 months of your third reservation
Ask more!
Reservation instructions
Make a reservation using the form from the link under reservation calendar
After reservation, GamePit staff will contact you (by phone or email) and check schedules. The space can be booked both on an hourly basis and for a longer period
- eg for a weekend or a week if needed
For overnight bookings, the GamePit contact person will submit the rescue plan at least 5 days before the customer's arrival to the rescue station. For this reason, bookings with an overnight stay must be made no later than 5 days before the start of the booking. Cancellations of reservations made less than 5 weekdays will be charged 50% of the price of the reservation.
The customer is given at least 2 GamePit Pro access cards, which can be used to open doors at the GamePit facility from outside at A2 door by displaying the card and entering the code
Safety instructions, exits and general practices related to the facility are reviewed with the customer by GamePit staff
Facility use agreements will be signed electronically by GamePit staff and customer before the beginning of the rent
GamePit Pro facility introductory video
Looking for partnership?
GamePit by Jamk has launched a partnership program for its business customers. With the partnership, you reach Jamk's 8,500 students. Partnerships are always made for one year at a time. The partnership can also be linked as part of Jamk's bigger partnerships. The partnership is beneficial, because it gives you useful benefits:
20% discount on the list prices of GamePit Pro - facility (3+1 offer is also valid)
Extra days in connection with weekend bookings 150 € (reg. 250 €)
Visibility in GamePit Pro facility via wall sticker (80cm x 80cm)
Visibility on GamePit by Jamk social media as post (approx. 4 per year)
Ask for more!
€500 + VAT / year
Wall of partners
More information from
Asiantuntija, Specialist
Matkailu ja palvelut, Tourism and Service Business
Liiketoiminta, School of Business
+358504361527
firstname.lastname@jamk.fi
Asiantuntija, Specialist
Matkailu ja palvelut, Tourism and Service Business
Liiketoiminta, School of Business
+358504119162
firstname.lastname@jamk.fi
Vanhempi asiantuntija, Senior Advisor
Matkailu ja palvelut, Tourism and Service Business
Liiketoiminta, School of Business
+358505975473
firstname.lastname@jamk.fi