For Visitors
Whether you are a teacher or a specialist from the educational field or business life, Jamk warmly welcomes you for a visit. Should you have specific interests and expectations for the visit at Jamk, please share them with us. We will do our best to find you a corresponding contact person to host your visit at Jamk and to assist with the practical arrangements.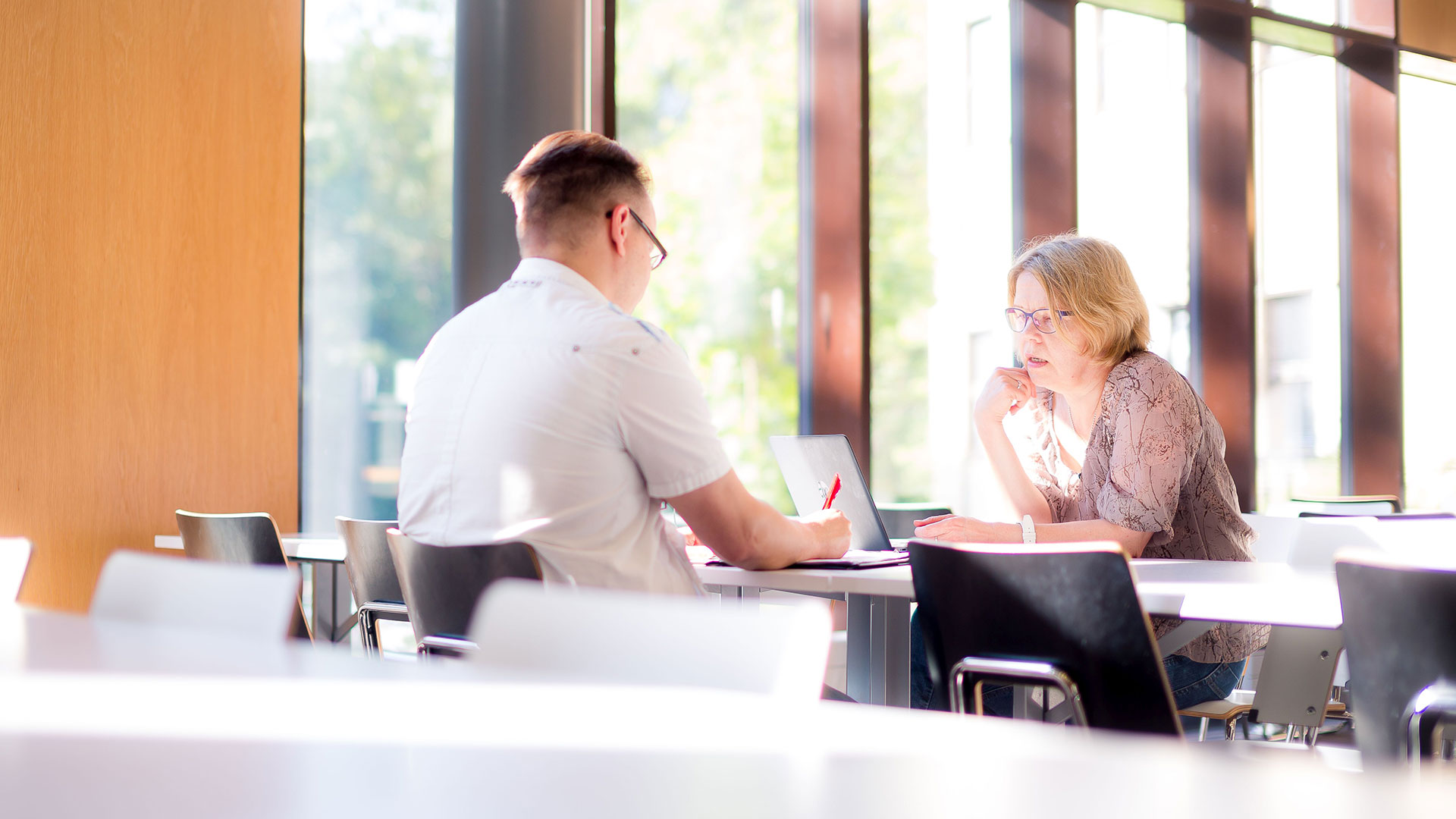 Teaching visit at Jamk
Are you thinking about visiting Jamk for a short teaching period? Please find some practical information below to support planning your stay with us. 
Erasmus+ staff mobility
Based on the rules of the Erasmus+ programme, the home institution is responsible for awarding the possible Erasmus+ grant to cover the costs of the visit. Please contact the International Office of your institution to ask about the availability of funding.
For the Erasmus+ staff mobility, your home institution will require at least a duly signed Erasmus+ Staff Mobility Agreement for Teaching/Training. Fill in the document as guided by your home institution. To get the Erasmus+ documents signed by Jamk, you can send the documents to your host scanned by email prior to your arrival.
When you are about to end your Erasmus+ visit at Jamk, remember to ask for a signed certificate from your host. The home institution needs the document to confirm the dates of your Erasmus+ mobility.
Visa, permits and invitation letter
A visa is a permit to enter the country for short-term and temporary visits, for three months stay at the most. A residence permit is required when the stay in Finland is over three months. Please note that visitors from the EU member states, Nordic countries, Liechtenstein and Switzerland do not need to have a visa or residence permit to enter Finland.
In case a visa is needed for your visit, you will need an official invitation from Jamk for the visa application. We will provide you the invitation after the receiving department has accepted the visit and a detailed programme has been made. The invitation is written and sent only for the duration of your visit at Jamk. The decision of granting the visa is made by the Finnish authorities.
More  information about applying, granting and validity of visas can be found on the website of the Ministry for Foreign Affairs of Finland. Further information about residence permits can be found on the Finnish Immigration Service's website.
Accommodation
There are several options where to stay during your visit in Jyväskylä. Since many organisations have their own rules for arranging and booking accommodation, we recommend you to make the bookings independently and as guided by your organisation.
Jamk's campuses in Jyväskylä are located near the city centre, where most of the accommodation options are also located.
Hotels
Jyväskylä is a lively city with numerous hotels you can choose from. 
Apartment hotels and hostels
Alternatively, you may rent an apartment or a big hostel room, if you e.g. travel in a group. The locations may vary from the city center to more residential areas.
Jamk guest flat
Jamk has a guest flat – a furnished, cosy, two-bedroom flat, 75 m² in size at Rajakatu 30 C 19. It includes two bedrooms for two persons, a kitchen, living room, shower and balcony.
The reasonably priced guest flat is meant for short-term accommodation for guests and guest lecturers at Jamk.
You can rent only one of the bedrooms or the whole flat. Towels, linen and parking space are included in the price.
Further information, prices and reservations:
Main Campus Info, phone: +358 40 760 6957, email: info.rajakatu(at)jamk.fi
Registration
Mobility statistics (both staff and student mobility) are reported annually to the Finnish Ministry of Education and Culture. Thus, all guests, whose visit is confirmed by Jamk (whether they are teachers or other professionals) are requested to register as a visitor. By filling in the registration form you give us information about international mobility and cooperation at Jamk. The information is purely for statistics and saved on Jamk's secure servers. None of your personal details are forwarded to the Ministry. The information is not sent to 3rd parties. 
For more information about data registration, please contact international(at)jamk.fi.
Visitors' Register Data Description
International Visitors Register
1. Register maintained by
JAMK University of Applied Sciences P.O. Box 207, FI-40101 Jyväskylä Tel. +358 20 743 8100
2. Contact person for register
International Services, international(at)jamk.fi
3. Name of register
JAMK University of Applied Sciences, International Visitors Register
4. Purpose of maintaining the register
The register provides JAMK information about international mobility and cooperation at JAMK. Mobility statistics are reported annually to the Finnish Ministry of Education and Culture but no personal details are forwarded.
5. Information content of the register
All foreign guests visiting JAMK, whether they are teachers or other professionals, are requested to register.
6. Regular sources of information
The information has been collected from a Webropol online questionnaire, data sheets filled by the visitors as well as from the hosts of the visits at JAMK.
7. Regular disclosure of information and provision of information to areas outside the EU or the European Economic Area.
No outside parties have access to the information in this register. The information is used for the annual statistics for the Finnish Ministry of Culture and Education.
8. Protection of the register
Manual material: The register does not contain manual material
Electronic material: The register's users all have a personal user ID and a password.
9. Right to inspect information and realisation of this right
An individual has the right to check their own information once a year free-of-charge. An inspection request must be issued in writing to the register's contact person.
10. Correction of information
Personal data will be corrected and altered according to notifications provided by the individual in question. A correction request must be issued in writing to the register's contact person.
11. Other possible rights
Information of the registered is not given for direct advertising, distance selling or other marketing purposes neither for marketing, opinion surveys, other personal registers nor genealogy studies. The prohibition shall be marked in the register.