Event
Jamk Talent Boost: Career Boost Trip to Äänekoski!
Buckle up and prepare for the filed trip! By Hoksautus project
Jamk Talent Boost in cooperation with Realize(Hoksautus) project is organizing a day bus trip to City of Äänekoski. During the trip, we will visit companies related to e.g. bio production, logistics, transportation and metal industry. Information about the city of Äänekoski and the region as a place to live and work will be also provided.
The trip takes place on the 17th of April, from 8.00 (Departure from Rajakatu Campus) until 18.30 (Arrival back to Rajakatu Campus).
Are you an international student and thinking about finding the job in Central Finland? This trip is for you!
The trip has a mandatory registration.
Please note that the deadline to register is 27.03.23 at 00.00.
After the 27th of March you will get a second confirmation email, that will ask you to confirm your participation. You have to respond to it in 5 work days, or your place will be given to the person in the waiting list.
The event has registration quotas (places) :
Jamk: 25 students/graduates, 3 staff members
JYU: 20 students/graduates, 2 staff members
Expertise Centre: 9 job seekers, 1 staff member
The event has a waiting list.
This registration is binding. The trip is free of charge, except the food expenses.
 In case of questions, please contact: talentboostjamk@jamk.fi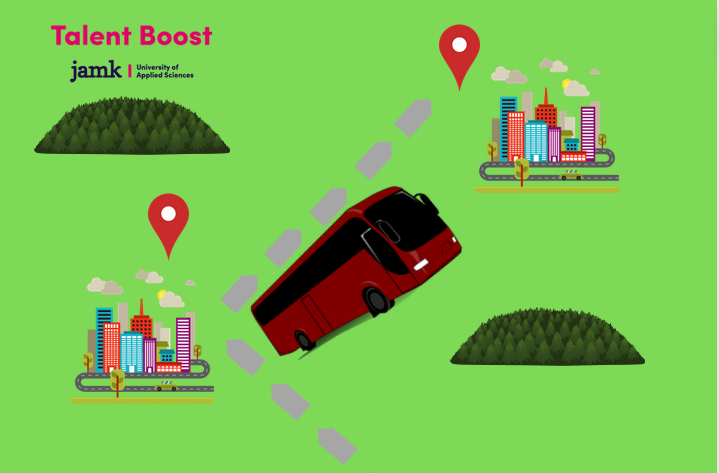 01.03.2023 00:00 - 27.03.2023 02:00
Rajakatu 35
40200 Jyväskylä
Finland