Partners
EATHEN is a cooperation between European and Nepalese Universities. In Nepal the universities will work closely with the Ministry of Education, Science and Technology.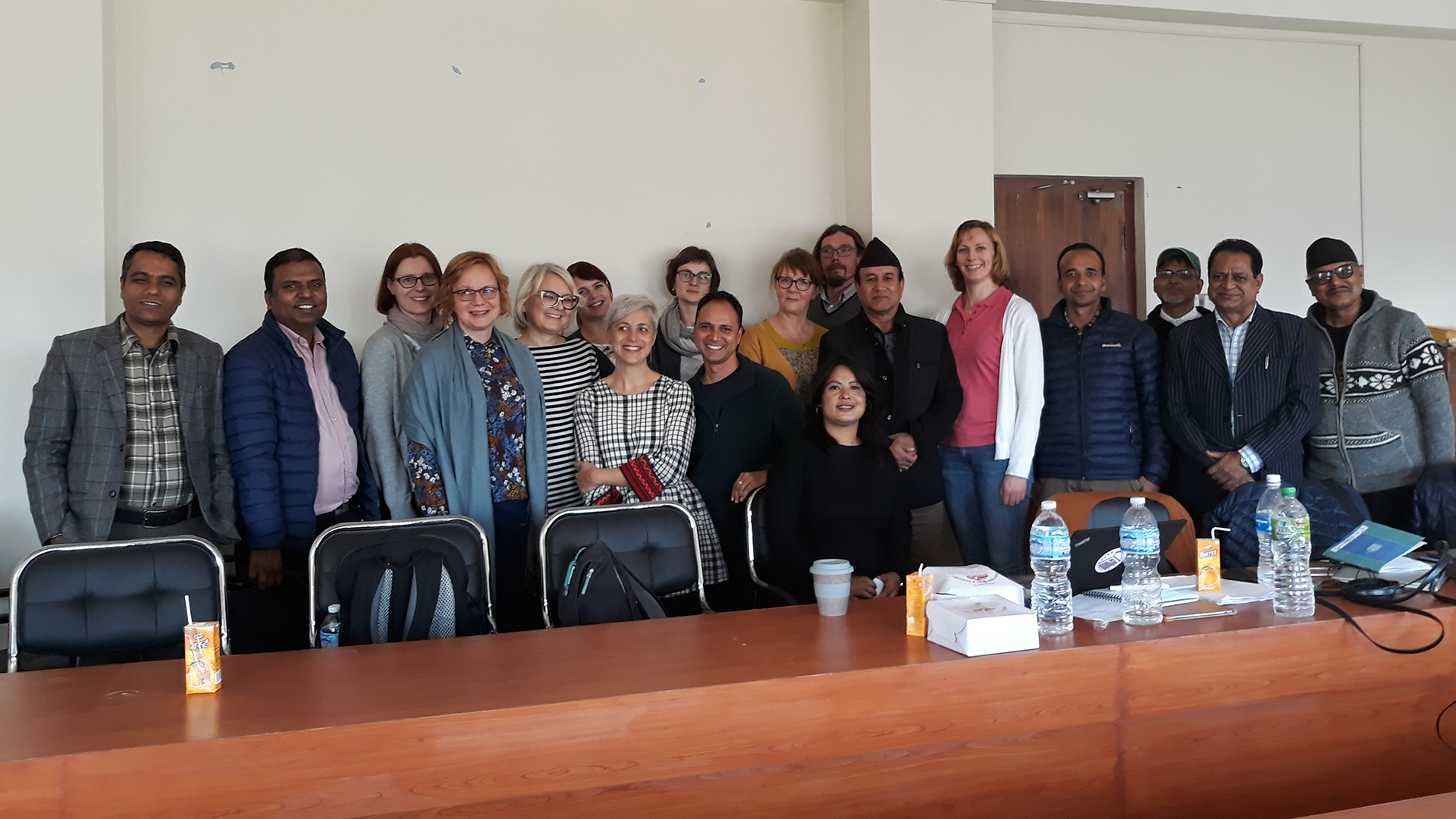 Project partners
Ministry of Education, Science and Technology, Nepal
Kathmandu University
Kathmandu University is a non-profit, public organization established in 1991. It is devoted to maintaining the quality of academic excellence with a vision to be a world-class university. The significance of university is enhanced with autonomous administration, financial self-sustenance, regularly maintained academic calendar, Sustained trust of the international community, Community ownership, and a Liberal environment.
It is located at the hilly landscape in Dhulikhel Municipality about 30 kilometers east of Kathmandu (KTM) and has a modest climate and panoramic Himalayan Views.
Nepal Open University
Nepal Open University, a university based on online and distance mode of learning, is a leading higher education institution in the country. The university provides higher education and training to the students, who are employed, live in remote areas and marginalised, are unable to access conventional education on campus. 
Watch the video: Nepal Open University at a Glance 
Tribhuvan University
Tribhuvan University (TU), established in 1959 to prepare competent human resources required for the overall developemnt of the country by providing quality higher education, is an autonomous and organized institution for higher education in Nepal. Conducting researches in different disciplines, preserving and developing national culture and tradition, and making knowledge of and researches in arts, science, technology braod, pragmatic and up-to-date are the aims of TU. It is the oldest and largest university in Nepal with 61 constituent campuses and over 1,100 affiliated campuses. Even today, more than 80% of total students of higher education in Nepal study in TU.
TU has five institutes (Institute of Medicine, Institute of Engineering, Institute of Forestry, Institute of Agriculture and Animal Sciences, and Institute of Science and Technology), four faculties (Faculty of Education, Faculty of Management, Faculty of Law and Faculty of Humanities and Social Sciences), four research centres (Centre for Economic Development and Administration, Research Centre for Educational Innovation and Development, Research Centre for Applied Science and Technology and Centre for Nepal and Asian Studies).
Project partners in Europe
JAMK University of Applied Sciences
Project coordinator, Finland 
Project leader Principal lecturer, Dr. Maija Mäkinen
The School of Professional Teacher Education (JAMK)
Alma Mater Studiorum - Universita di Bologna
Italy 
The University of Bologna is the oldest university in the Western world, it paves the way for innovation through an increasingly rich programme catalogue, cutting-edge research and a constant and increasingly broad international perspective. Its teaching catalogue is tailored to the needs of present-day society. Over 200 degree programmes among its 32 departments and 5 schools are offered to over 82 000 students. 3 600 graduates are enrolled in PhDs and other 3rd-cycle programmes. Ranked in the top 200 on the two most prestigious international University rankings, considered the leading university in Europe for student mobility (Erasmus+).
The Department of Education Studies "Giovanni Maria Bertin", involved directly in EATHEN, has extensive experience in international scientific collaboration with universities and research centres, with which it also shares research directions such as: education to sustainable development, inclusive societies and citizenship practices; training and organization of school and extra-mural activities for every grade; childhood, family, social networks; research methods in the human sciences; origins, historical-geographical coordinates and contemporary cultures; theory and practice of care; socio-psycho-anthropological educational aspects of emerging social challenges. The Department is one of the pioneers of the field worldwide, with over 30 years experience in providing professional training to teachers, educational and social workers. It has extensive experience - both in the field of research and consultancy.
Masaryk University
Czech Republic
Masaryk University is the second-largest public university in the Czech Republic. At present, it comprises nine faculties with over 200 departments, institutes, and clinics. Recognized as one of the most important teaching and research institutions in the Czech Republic and a highly regarded Central European university, it has been infused with a strong democratic spirit ever since its establishment in 1919. Masaryk University was one of the first to introduce a three-tier degree structure based on the European Credit Transfer and Accumulation System and is holder of the ECTS Label. The university emphasises equitable access to education, therefore, in 2000 it established the Support Centre for Students with Special Needs Teiresias.
The Faculty of Education at Masaryk University focuses on providing education to future general education teachers and counsellors in bachelor's and master's degree programmes. It also offers bachelor's and master's degree study programmes focusing on students with special educational needs and students from disadvantaged backgrounds.
The Teiresias Support Centre for Students with Special Needs was established in 1997. The Centre's primary task is to provide maximum accessibility to all accredited degree programmes at the University for students with all types of disabilities. It enabled Masaryk University to include nearly 50 % of all Czech university students with sensory disabilities and a great proportion of students who experience barriers in accessing education based on their disability or disadvantage. Over 20 years of experience and rich international cooperation have helped Teiresias to develop into a leader in providing inclusive services in tertiary education in the Czech Republic.
Need more information?
Find all project partners' contact persons here: